Sometimes when I post, my pictures are my subject.
Sometimes, my pictures have absolutely nothing to do with what I'm writing about.
One way or another though, I always have pictures.
But not today. I've been waiting all week for some awesome pictures to drop into my lap, but so far, it's a no go.
It's that time of year. The time of year when I struggle to find subjects. Struggle to find inspiration.
It's all good though. I'm up for the challenge. I'm just going to have to step out of my usual box and put a new spin on the way I look at things.
Stay tuned for that.
In the meantime, today is as good a day as any to share this soup recipe.
While this is actually one of my very, very favorite soup recipes ever, I should probably offer a word of warning for those of you who are morally opposed to Velveeta. Velveeta is scary. I know. But for today, we're going to embrace the Velveeta and pretend it's really not plastic's first cousin. Or plastic's half brother. Or full brother for that matter.
I won't go so far as to say that I'm a Velveeta lover, but I am also not a food snob. Far from it. In fact, it really rubbed me the wrong way when Martha trash talked Cool Whip on her show, and I think it's safe to assume that Cool Whip and Velveeta probably have a chemical composition or two in common.
But everyone knows chemicals are the cornerstone of healthy living, so it's all good.
For those of you who decide to soldier on with this recipe, the pay off will be a pot of hearty, satisfying and delicious soup that takes next to no time to make.
Ready? Let's go.
Chicken Noodle Soup
3/4 cup chopped onion, saute till tender in...
2 T butter
6 cups chicken broth or stock
2 chicken breasts, cooked and shredded
1/4 tsp salt
1/4 tsp garlic powder
16 oz frozen mixed vegetables - I use the mix with peas, carrots, green beans, corn and lima beans.
8 oz frozen broccoli - half of the 1 pound bag...sorry to state the obvious
8 oz dry egg noodles - ditto
2 cups milk
1 lb Velveeta, cut into chunks
Add all but the last three ingredients to a large pot. Once the soup reaches a simmer, add the noodles. Cook for five minutes, then add the milk and the pasteurized processed cheese product. Stir till the cheese is melted and you've got dinner! Easy.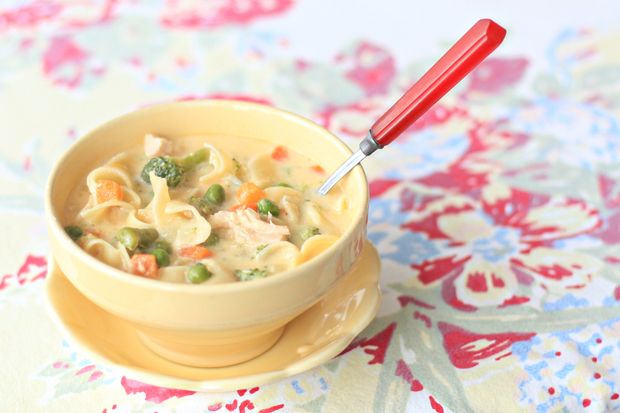 So, let's hear it. Are you a Velveeta lover or a Velveeta hater. Or do you, like me, just see Velveeta as a necessary evil. It's time to come clean.